California CCW Renewal This 4-hour course is a concise review of California CCW training curricullum.
Extra Training

(Take the full 8hr full course)
As a renewal student, you may participate in the full-day training at
no extra charge
. This is to encourage more training for current CCW holders.
The course curriculum, live-fire exercises, and demonstration of familiarity, meets or exceeds the established requirements in accordance with California Penal Code Section 26150(a).
California CCW:
Los Angeles, Orange County, Ventura, Kern County
Course Outline
Part I:
Safety & Procedures
Equipment & Ammunition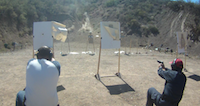 Part II:
Standby / Ready Positions
Draw from Holster
Reloading Drills (Speed / Tactical)
Multiple Shots
Malfunctions
Other Shooting Positions
Concealment vs Cover
Moving While Shoting
Shooting from Cover
Part III:
Practical Shooting Exercise
Part IV:
Cost: $180.00 ( Includes range fee)
Class is held at:


A Place To Shoot
33951 San Francisquito Canyon Road
Saugus, Santa Clarita, CA, 91390
(661) 296-5552
Wear comfortable clothing:
Wear long pants instead of shorts
Wear pants with belt loops
Bring strong/sturdy belt (1.5 inch width or wider; must fit through the belt loops)
Wear closed toe shoes

Items to Bring: