Course Description
Essential Defensive Pistol This is our intermediate level tactical handgun course. Learn "Essential Gun Fighting Skills". Safety is emphasized in all our classes. This is a scenario-based pistol training. Instructions include proper attitude, gear selection, marksmanship, defensive tactics, cover and concealment, CQB and much more. Drills, including the draw and re-holstering are repeated for muscle memory. This course is conducted by NRA Certified Advanced Pistol Instructor and Law Enforcement Instructors.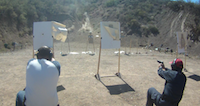 The course curriculum, live-fire exercises, and demonstration of familiarity, meets or exceeds the established requirements in accordance with California Penal Code Section 26150(a).
California CCW:
This course satisfies California CCW training.
Sign Up for Full 16-Hour Class:
Defensive Handgun (Same price)
We highly recommend the full 16-hour course.
Lessons Include:
CCW technique
Holster options
Carry postitions
Other State CCW

Utah, Arizona, Florida (Carry in 35 states)

Defensive mindset
Discussion on Civil / Criminal Liabilities and
Much more ...
Training Done Right
Conducted by experienced certified instructors

No Online / No simulation 

No lengthy boring video presentations

No shortcuts / No rubber stamping

Only live, in-person quality training
Course Outline
Part I:
Safety & Procedures
Equipment & Ammunition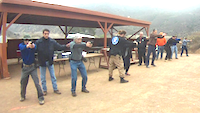 Part II:
Standby / Ready Positions
Draw from Holster
Reloading Drills (Speed / Tactical)
Multiple Shots
Malfunctions
Other Shooting Positions
Concealment vs Cover
Moving While Shooting
Shooting from Cover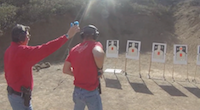 Part III:
Practical Shooting Exercise
Part IV:
Cost: $300.00 ( Includes range fee)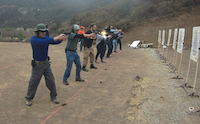 Class is held at:


A Place To Shoot
33951 San Francisquito Canyon Road
Saugus, Santa Clarita, CA, 91390
(661) 296-5552
Wear comfortable clothing:
Wear long pants instead of shorts
Wear pants with belt loops
Bring strong/sturdy belt (1.5 inch width or wider; must fit through the belt loops)
Wear closed toe shoes
Shirts must be tucked in
A hat
Cooling towel (during summer)

Items to Bring:
Firearm (semi-automatic pistol), 2 or more magazines
Eye and ear protection, a hat
300 rounds of ammunition for your primary pistol
(may be available at the range)
25 rounds for each additional pistol(s)
Strong side OWB holster, belt and magazine pouches
(gear suggestion)
Old T-shirt (will be destroyed)
Knee pads (optional)
Sunblock
Bottled water
Packed lunch