Force on Force Handgun
Course Description
Force on force training is where the rubber meets the road. You'll be pitted against thinking adversaries in likely real world scenarios. Using Airsoft pistols, you'll learn what tactics work and what tactics don't.
This curriculum is designed for serious students who are willing to take the next step in the training continuum. Home protection scenarios are now emphasized.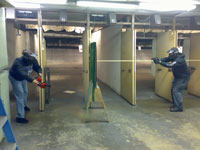 Topics addressed:
Single and mutiple adversaries.
Shoot/don't shoot decision making.
Low light engagements.
Knife against gun.
Use of cover and concealment.
Dynamic movement.
And much more.
Equipment:
Airsoft Pistol (Gas Blowback)
Face mask and goggles (required)
Long sleeve T shirt or sweat shirt; no body armour.
Gloves (optional)
Neck/throat protection (suggested)
0.20g 6mm bbs only (White)
Tactical Flashlight
**Rental equipment will be available.**
Prerequisite:
Basic / Intermediate Handgun or instructor's permission.
Cost: $100.00 ( Includes range fee)