Having the training and skills in a life-threatening situation can be the determining factor for survival.
Trauma & Emergency Response: (Combined Course) This class is for everyone who wants to be prepared for emergency situations. Learn basic First Aid, CPR and AED in compliance with the standards of American Heart Association.
Stop The Bleed - Trauma Response Medical Training: Bleeding Control, Wound Packing and Tourniquets. This program teaches proper bleeding control techniques, including the use of hands, dressings, and tourniquets.
This course is conducted by certified traininers:
Emergency Medical Technicians (EMT)
Certified Phlebotomy Technicians (CPTI)
American Heart Association CPR/AED and BLS Instructors
American Red Cross CPR/First Aid/AED Instructor
Stop the Bleed Instructors
Course Outline
Part I:
Introduction
Video Presentation
Part II:
Victim Assesment
CPR
AED
Certification - American Heart Association
Part III:
Stop The Bleed - Trauma Response Medical Training
Tourniquet Application
Wound Packing
Part IV:
Skill Evaluation
Conclusion
Trauma Kit: By North American Response
CAT Tourniquet
Emergency Trauma Dressing
2 Compressed Gauze
Nitrile Gloves - Bear Claw
Trauma Shears
Permanent Marker
Bleeding Control Instruction
Prerequisite:
Cost: $150.00 (Trauma Kit and Certification Fee Included)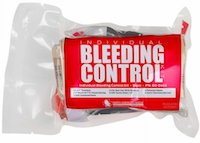 Items to Bring:
Wear comfortable clothing
Change of clothes

Clothing may get sprayed with fake blood
Fake blood is washable


Note taking materials
Venue:


Shoot Safe Learning
2049 Pacific Coast Hwy, #106,
Lomita, CA 90717